Michaels Invincible site last updated: May 01, 2002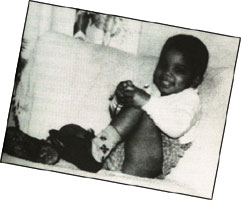 Michael Jackson is probably one of the most recognised names in the world, but maybe you want to know a bit more about him. So here's some general information about the man we call Michael!
Birth Name: Michael Joseph Jackson
Nicknames: Mike, MJ, DooDoo
Birth Date: 29th August 1958
Birth Place: Gary,IN (USA)
Sign: Virgo
Nationality: American
Occupation: Singer, entertainer ++
Eyes: Dark brown
Hair: Black
Height: 5'10" / 178 cm.
Shoesize: 8½ / 42
First Home: 2300 Jackson St., Gary,IN (USA)
Current Home: Neverland Vally,CA(USA)
Parents: Katherine Esther and Joseph Walter Jackson
Siblings:
* Maureen Reilette (Rebbie)
* Sigmund Esco (Jackie)
* Toriano Adaryll (Tito)
* Jermaine Lajaune
* LaToya Yvonne
* Marlon David
* Steven Randall (Randy)
* Janet Damita Jo
Marital Status: Divorced
(Ex-Wives:
*Deborah (Debbie) Rowe Jackson 14th Nov 1996 - 15th July 1999
*Lisa Marie Presley 26th May 1994 - 19th January 1996)
Children:
* Prince Michael Jr (born 13.02.97)
* Paris Michael Katherine (born 03.04.98)
* (both with Debbie Rowe)
Personality: Winning smile, humble, big hearted, ready wit, shy, polite, considerate, intelligent, loving, curious, prefectionist, eccentric, professional, intellectual, understanding, forgiving, childlike.
Hobbies: Spending time with his children, friends and pets. Cartoons, playing video games, reading, listening to music, arts, watching movies, writing sweet notes to his fans on bedding and throw them out the window etc.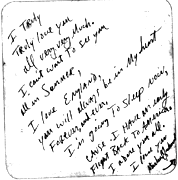 Fan mail can be sent to:
Michael Jackson
Neverland Valley Ranch
c/o Postmaster
Los Olivos, CA 93441
USA
(His telephone number and email address are private)
Song of all time: Afternoon of a Faun by Claude Debussy
Song (of his): Earth Song
Videos (of his): Thriller and Smooth Criminal
Song to perform: Billie Jean
Music: Barbara Streisand, The Bee Gees, Whitney Huston, classical music (Debussy, Tchaikovsky, Prokofiev), show tunes (Irving Berlin, Johnny Mercer, Lerner, Loewe, Harold Arlen, Rogers and Hammerstein, Holland-Dozier-Holland), all Motown
Book: Peter Pan by J.M. Barrie
Film: Sound Of Music and E.T.
Food: Fruits and vegetables. Mexican, sushi.
Drink: Fruit Juices, Gatorade
Number: 7
Animated character: Pinocchio
Place to visit: Disneyland
Feels most comfortable: On stage and Neverland Valley Ranch
Greatest Inspiration: Charlie Chaplin, Fred Astaire, James Brown, Jackie Wilson

The content of this site is 2001-2002.
Designed by Swinger.

Michael Invincible is not affiliated with Michael Jackson in any form, shape or body. The content of this site is strictly for enjoyment.